KK
KOSHER THEATRESPORTS 2017 A HIT!
OUR SURFIN' SAFARI ON THE CHAI SEAS
WAS A LAUGH FEST TO DIE-DIE-DIE FOR!


MC Ewan Campbell, referee Geoff Sirmai and
improvising musician Benny Davis (from the Axis of Awesome) set the tone...
Guest judges (doyen of Theatresports in Australia) Lyn Pierse,
(star international director) Tanya Goldberg
and (composer-performer) Joanna Weinberg scored the scenes.
and SURFIN' SEPHARDI won the night - after the closest competition ever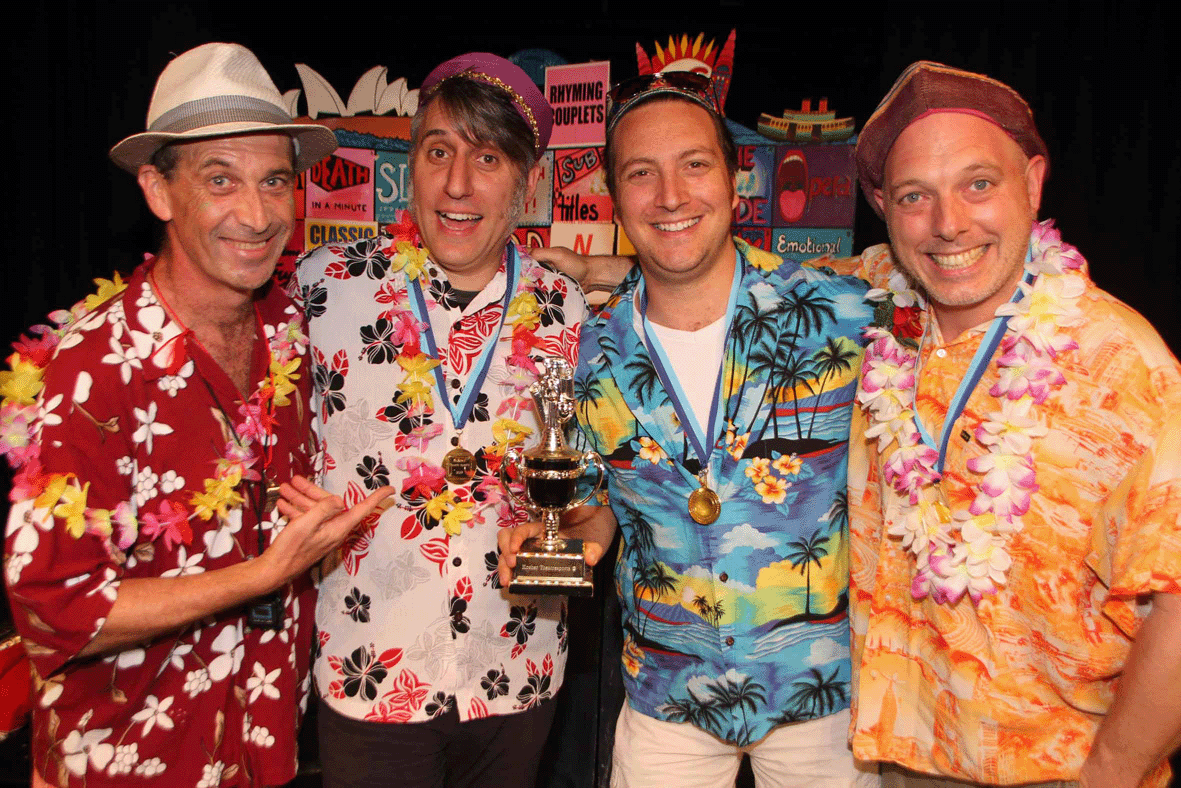 Prizes included accommodation packages from TFE Hotels,
Five Stones Kosher Wine, Sweet William chocolates
plus theatre tickets from the Ensemble, Griffin, Glen Street, Sport For Jove theatres,
Sydney Comedy Festival, Camelot Lounge and Impro Australia. Gri
For PHOTOS click here
For press reviews click on the link below right...
See what happened at KTS 2013 including photos! (click here)
Watch this TV report on Kosher Theatresports by Lexi Landsman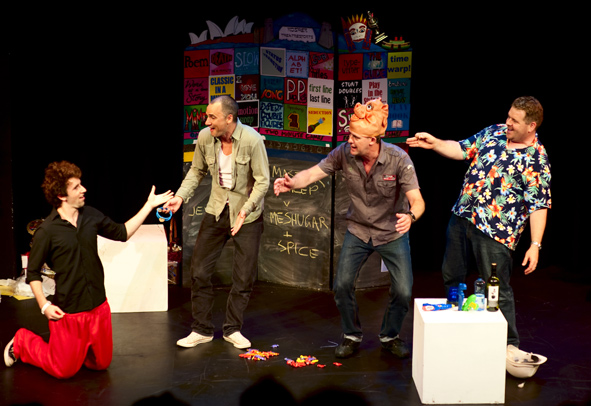 To express interest as a player, please email geoff@comicroasts.com.au
Visit Kosher Theatreports on Facebook (group or event) to keep up with the latest team news... or return here soon for more info.
"I just want to say thanks for a most extraordinary evening. Last night was one of the best Theatresports evenings I have ever attended and I've been to quite a few.
My congratulations to great organization, gathering incredible talent and a fabulous evening." - Gaby Traibetz, Shalom Institute
For player information contact: Geoff Sirmai geoff@comicroasts.com.au
Theatresports® is licensed and administered by Impro Australia, a non-profit performers' association dedicated to presenting quality improvisation in all media.